Shell celebrates 75 Years of Partnership with the Kingdom of Saudi Arabia
Mar 16, 2016
Riyadh, Saudi Arabia – March 16, 2016 – Shell in Saudi Arabia today commemorated its 75th anniversary at an event hosted by Shell's CEO Ben van Beurden with HRH Prince Sultan bin Salman as guest of honour and attended by other dignitaries and the company's partners in the Kingdom including Saudi Aramco, SABIC and the Al Jomaih family.
Shell's journey in Saudi Arabia began with the refuelling of King Abdulaziz's airplane. Today, Shell is active in refining, petrochemicals, aircraft refuelling services and the blending and marketing of lubricants. Shell employs more than 2,000 staff with its partners in the Kingdom, with approximately 80% staff being Saudi nationals.
The 75 year celebratory event took place at the National Museum and highlighted the longstanding partnership between Shell and the Kingdom, memorialised with the opening of the 'SAUDIA' photo exhibition. 'SAUDIA' showcases the Kingdom's remarkable political, social and economic developments over the last seven decades through a series of historic images. The King Abdulaziz Foundation for Research and Archives was Shell's partner in creating the 'SAUDIA' photobook and exhibition. The exhibition, which includes pictures never published before, will remain in the National Museum for another two weeks and is open to the public.
His Royal Highness Prince Sultan, President of the Saudi Commission for Tourism and Antiquities and Chairman of the Disabled Children Association, commented on the occasion saying, "This partnership of more than seven decades reflects Shell's ongoing commitment to the Kingdom not only in oil and gas developments, but also in social projects that promote entrepreneurship among Saudi youth including meaningful causes such as the "SAUDIA" exhibition and the jubilee book, proceeds of which will be used to raise funds to benefit the Disabled Children's Association." 
Speaking at the commemorative event, Shell CEO Ben van Beurden said, "We are proud of our long-standing and successful partnership with the Kingdom of Saudi Arabia and with its people. As we have over the last 75 years, we are determined to use our innovative technology to support the Kingdom's future energy needs,"
"We look forward to many more decades of success, progress and partnership," he added.
Shell's long-standing partners also participated in the commemorative event, including Saudi Aramco with whom Shell has established the Saudi Aramco Shell Refinery, one of the largest refineries in the Middle East, SABIC with whom Shell owns SADAF, one of the world's largest petrochemical complexes, Peninsular Aviation Services Company Limited which provides fuel to international airports in the west of the Kingdom and the Al Jomaih family which has 50% shareholding in Jomaih and Shell Lubricating Oil Company (JOSLOC), which manufactures and distributes Shell lubricants in Saudi Arabia.
In attendance and the first to view the 'SAUDIA' exhibition were H.E. Khalid al-Falih, minister of Health and Chairman of the Board of Saudi Aramco, HRH Prince Mohammed K.A. Al-Faisal, CEO of Faisaliah Group, , HRH Abdulaziz bin Turki al Faisal, motorsports athlete, Amin Nasser, CEO of Saudi Aramco, and Sheikh Mohammed al Jomaih amongst 80 other guests.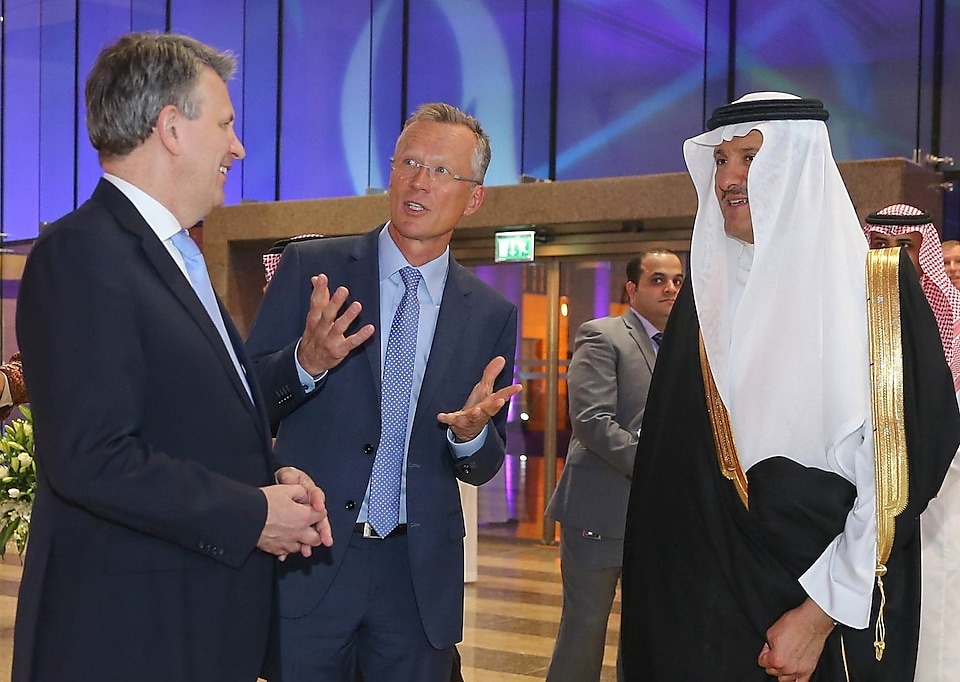 About Shell in Saudi Arabia
Shell has been an active and reliable energy partner in Saudi Arabia, supporting the Kingdom's oil sector growth for many decades and today supporting the country in its energy diversification objectives with projects in the refining, petrochemicals and lubricants sectors. Shell employs more than 2,000 staff with its partners in the Kingdom, the vast majority being Saudi nationals (80%).
Shell's social investment projects are designed to support the country's job creation goals. Its Intiliqaah project, now in its 6th year, empowers young Saudis with the skills necessary to become young entrepreneurs. The programme has already graduated 10,000 young men and women, and to date over 50% of the trainees have been women. This year, three student teams from Saudi Arabia participated in Shell's global Eco-Marathon competition in Manila.
In another initiative targeting youth, Shell's 'Futbolnet' programme with FC Barcelona uses one of the world's most popular sports to empower youth with essential skills such as teamwork, respect and responsibility. Shell's Road Safety education programme aims to support the Kingdom in making roads safer.
For Media enquiries:
Mr. Nureddin Wefati
Head of Media Relations for Middle East & North Africa
Shell EP International
Tel: +97147055347
Cell: +971562162409
Mr. Ali Khan
Spokesperson Middle East & North Africa
Shell EP International Ltd
Tel:   +971 4 405 4563
Cell: +971 501 897 480
Cautionary note
The companies in which Royal Dutch Shell plc directly and indirectly owns investments are separate entities. In this announcement "Shell", "Shell Group" and "Royal Dutch Shell" are sometimes used for convenience where references are made to Royal Dutch Shell plc and its subsidiaries in general. Likewise, the words "we", "us" and "our" are also used to refer to subsidiaries in general or to those who work for them. These expressions are also used where no useful purpose is served by identifying the particular company or companies. "Subsidiaries", "Shell subsidiaries" and "Shell companies" as used in this announcement refer to companies in which Shell either directly or indirectly has control, by having either a majority of the voting rights or the right to exercise a controlling influence. The companies in which Shell has significant influence but not control are referred to as "associated companies" or "associates" and companies in which Shell has joint control are referred to as "jointly controlled entities". In this announcement, associates and jointly controlled entities are also referred to as "equity-accounted investments". The term "Shell interest" is used for convenience to indicate the direct and/or indirect ownership interest held by Shell in a venture, partnership or company, after exclusion of all third-party interest.
This announcement contains forward looking statements concerning the financial condition, results of operations and businesses of Shell and the Shell Group. All statements other than statements of historical fact are, or may be deemed to be, forward-looking statements. Forward-looking statements are statements of future expectations that are based on management's current expectations and assumptions and involve known and unknown risks and uncertainties that could cause actual results, performance or events to differ materially from those expressed or implied in these statements. Forward-looking statements include, among other things, statements concerning the potential exposure of Shell and the Shell Group to market risks and statements expressing management's expectations, beliefs, estimates, forecasts, projections and assumptions. These forward looking statements are identified by their use of terms and phrases such as "anticipate", "believe", "could", "estimate", "expect", "goals", "intend", "may", "objectives", "outlook", "plan", "probably", "project", "risks", "seek", "should", "target", "will" and similar terms and phrases. There are a number of factors that could affect the future operations of Shell and the Shell Group and could cause those results to differ materially from those expressed in the forward looking statements included in this announcement, including (without limitation): (a) price fluctuations in crude oil and natural gas; (b) changes in demand for Shell's products; (c) currency fluctuations; (d) drilling and production results; (e) reserves estimates; (f) loss of market share and industry competition; (g) environmental and physical risks; (h) risks associated with the identification of suitable potential acquisition properties and targets, and successful negotiation and completion of such transactions; (i) the risk of doing business in developing countries and countries subject to international sanctions; (j) legislative, fiscal and regulatory developments including regulatory measures addressing climate change; (k) economic and financial market conditions in various countries and regions; (l) political risks, including the risks of expropriation and renegotiation of the terms of contracts with governmental entities, delays or advancements in the approval of projects and delays in the reimbursement for shared costs; and (m) changes in trading conditions. All forward looking statements contained in this announcement are expressly qualified in their entirety by the cautionary statements contained or referred to in this section. Readers should not place undue reliance on forward looking statements. Additional factors that may affect future results are contained in Shell's 20-F for the year ended 31 December 2013 (available at www.shell.com/investor and www.sec.gov). These factors also should be considered by the reader. Each forward looking statement speaks only as of the date of this announcement, 16 MARCH 2016. Neither Shell nor any of its subsidiaries nor the Shell Group undertake any obligation to publicly update or revise any forward looking statement as a result of new information, future events or other information. In light of these risks, results could differ materially from those stated, implied or inferred from the forward looking statements contained in this announcement.